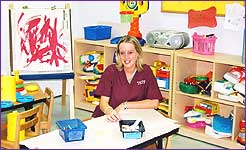 "I really liked the individual care that they provide to their students. They do a great job making sure that every student is learning and excelling with the material that they are teaching"
- Victoria Marino

"The Margaret George School provides a nurturing learning environment for children. Excellent, caring teachers, interesting projects for the kids. Highly recommended."
- Trudy Segal

"I am very happy with my daughter coming to Margaret George School. She is making good friends and her teachers communicate very well with the parents. I would definitely recommend the Margaret George School."
- Alice Dalton

"The 'STARS' program is essential for providers and parents. When you walk into the Margaret George School, a 4 STAR facility, you instantly see what sets them apart from any other daycare. The environment is impeccably clean, organized, positive and motivated to reach STARS goals. What a fantastic way to keep quality care for our children and keep providers motivated to keep up the excellent hard work."
- Jessica Marple

It is very important to me that I can give my child the best care and since I cannot be home with her full time, it is crucial she be in a school that constantly works on improving it's care. Margaret George School in my opinion reflects the very best in childcare. They are passionate about learning and the process my daughter goes through to get to her end result. It is evident to me that she is growing and learning in a nurturing atmosphere. I am so comfortable that she is in good hands.
-Lori Cardoni

"Margaret George School's staff is the best around"
- Wendy McCanahan

"Your attention was loving and caring and we trusted every minute he was in your care"
- Linda & Vince Schavone

Dear Ms. Paula,

Words can barely express my thoughts and feelings as I try to say thank you for all you've shared with my daughter since she was 4 months old! Now its time for kindergarten. You have helped prepare her well - set the stage for her to make good choices in life. You filled her day with creative energy, poems, songs, friends, critters (we will miss the bunny) and so much more. Please extend my gratitude to your superior staff for all their love and the high quality of care they each provided for my daughter. The Margaret George School has been an important part of our family!

Liz Wilson